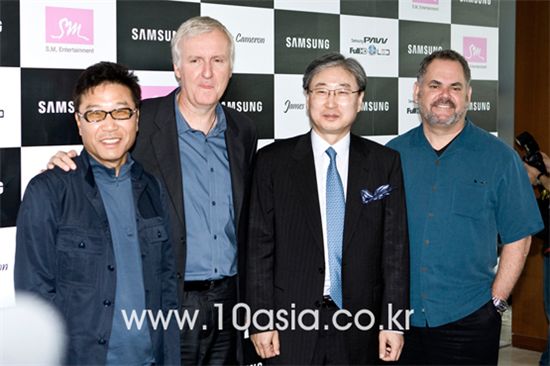 From left, SM Entertainment founder Lee Soo-man, Hollywood film director James Cameron, Samsung Electronics visual display division president Yoon Boo-keun, Cameron's 3D partner Vince Pace pose upon arriving for the "3D Contents-Related Cooperation Plan" event held at Samsung's office in the Seocho district of Seoul, South Korea on May 14, 2010. [Lee Jin-hyuk/10Asia]
Through the film "Avatar," director James Cameron made it possible for the world to enjoy a new visual experience called 3D. And now he is preparing another innovation that will surprise us on the small screen. James Cameron signed a partnership with Samsung Electronics, who he confidently describes as "having the best 3DTV display technology in the world" and SM Entertainment, who says they "have been making 3D movies since [Korea's first idol group] H.O.T. days ten years ago," to co-develop contents for their 3DTV project.
All eyes were on the press conference for "3D Leadership Collaboration," held at Seoul's Samsung offices in Seocho district on May 14, as "Avatar" director James Cameron, President Yoon Boo-keun of Samsung's Visual Display Division and producer Lee Soo-man of SM Entertainment attended the event. Director James Cameron, who is the so-called front-runner of 3D contents development, stated that "Samsung is the global leader of 3DTV and I have worked hard on developing cameras and creating contents" and that it was "natural for the leaders of both sides to cooperate." President Yoon Boo-keun also explained that he "will increase contents that people can enjoy through strategic alliances with partners in film, animation, sports and television" and revealed his determination to "provide consumers with 3D-produced music videos and concerts through a triangle collaboration with 'Avatar' producers and SM Entertainment."
Through this collaboration, the producers behind "Avatar" will shoot SM artists' -- including BoA, TVXQ and Super Junior -- music videos and concerts in 3D format while Samsung will use those 3D contents in its marketing plan for 3DTV. Producer Lee Soo-man of SM Entertainment could hardly hide his excitement, even quoting the famous [Yoko Ono] quote "A dream you dream alone is only a dream. A dream you dream together is reality." He expressed his anticipation for the partnership, stressing that "3D will be the most important contents in the future" and that "SM Entertainment will produce and proudly present contents that will go beyond Asia and out into the entire world. My heart is overwhelmed by the thought. I was so excited that I couldn't get any sleep last night." About SM's numerous attempts in the past to produce 3D contents -- including H.O.T.'s 2000 film "Age of Peace", TVXQ concerts and Girls Generation's music videos -- Lee explained that he considered those attempts as "practice for the future," revealing the thirst he had for 3D contents all these years.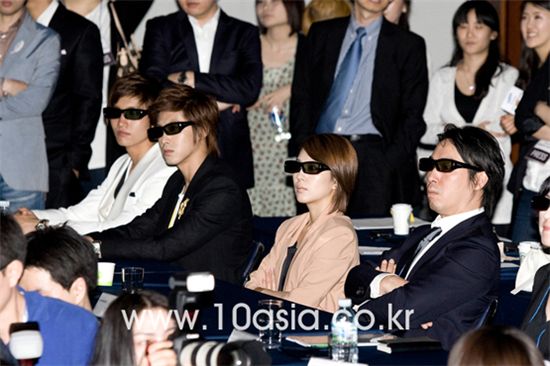 From left, TVXQ member Max Changmin and U-Know Yunho, BoA and SM Entertainment CEO Kim Young-min looks at a 3D video at the "3D Contents-Related Cooperation Plan" event held at Samsung's office in the Seocho district of Seoul, South Korea on May 14, 2010. [Lee Jin-hyuk/10Asia]
To produce 3D contents, Samsung Electronics has been maintaining mutual-assistance system with "Avatar" production team since last year. For the 3D LED TV's global launch event, held last March at New York's Times Square, Samsung and the "Avatar" team produced a 3D version of global hip-hop group Black Eyed Peas' live performance and used it in the marketing plan. Starting this June, the producers are officially going to start producing BoA, TVXQ and other artists' music videos and concerts in 3D format. In addition, Samsung is planning to keep its leading position in 3D market by making the music videos created by "Avatar" producers into 3D blue ray titles, run demonstrations at Samsung Electronics' 3DTV stores worldwide and give them to 3DTV buyers. Thurs, perhaps it was only natural that director James Cameron, who said "'Avatar' was successful but we are still running short of 3D titles and need to quickly develop the contents," chose Korea's electronics giant Samsung and SM Entertainment as his strategic partners since both companies are quick to adapt to the future of 3D visual industry.
However, it is too early to celebrate and pop the champagne on 3DTV. 3D still has the inconvenience of having to watch while wearing 3D glasses and some viewers have voiced headaches and dizziness from watching 3D. Another problem is how to minimize eyes exhaustion that comes from watching more than five minutes -- or more or less, depending on the content -- of 3D footage. As the solution to above problem, the government has offered the no-glasses-necessary 3DTV, which will be commercialized within five years, but Samsung Electronics -- the developer of 3DTV -- is actually skeptical about it. President Yoon Boo-keun criticized the idea, saying "Even now we can watch 3D without glasses but the resolution is quite low" and that "based on the calculation that we increase the current resolution of 55-inch TV by four times, the panel price alone would reach tens of millions of won." President Yoon emphasized that while such a high-price equipment could be affordable for public places, he "expects that it will take a considerable amount of time to develop such technology fit for households." What is important, he again stressed, is the resolution, not whether viewers need to wear 3D glasses. Can 3DTV really emerge as a new device that would replace flat-screen 2DTV?
TAKE OUT WITH FULL CREDITS
Source:
Asiae