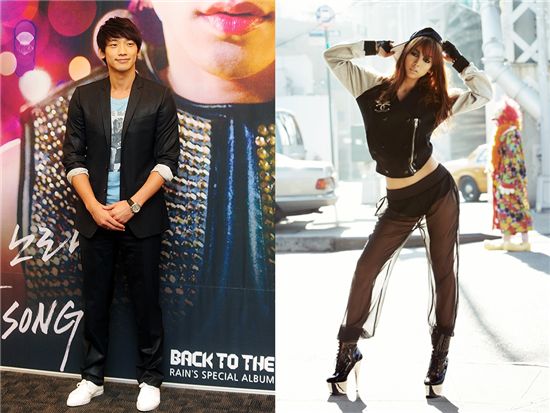 Korean pop stars Lee Hyori and Rain are making news for saying that they were both attracted to each other at one point during their decade-long friendship.
They made the remark while making a guest appearance on MBC variety talk show "Come On Over," which aired Monday evening.
"Lee Hyori is a person who has a lot of charms," said Rain on the show. "She exudes an unbelievable aura on stage but she is like a vulnerable little girl in some ways."
He went on to say, "Hyori doesn't know this but I think she has a power that attracts men."
When Lee asked Rain if he ever thought about her in a romantic way, he answered, "There is no man who would not regard Lee Hyori as a woman."
Lee then admitted to once having felt romantic feelings for Rain. "There was one time when I thought of Rain as more than just a friend -- when I bumped into him at a tanning shop," explained Lee. "He was in the next room and I heard him taking his clothes off. I started to imagine things."
The two singers, both famous for their huge sex appeal, are known to be close friends to industry insiders. When Rain recently made a comeback to the local music scene, he reportedly said that he is happy to see "one familiar face" on televised music shows, referring to Lee, who also came out with a new album titled "H-Logic."
Source:asiae.co.kr
shared by:sukira@dkpopnews