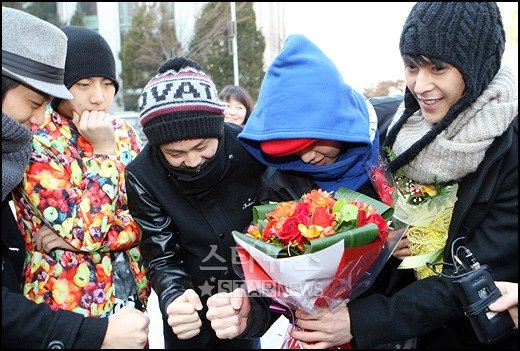 BEAST members congratulated maknae Son Dongwoon on his graduation.
BEAST's Yoon Doojoon, Yong Junhyung, Jang Hyunseung, Yang Yoseob attended Seoul KangDongGu HanYoung High School's graduation on the morning of February 4th and celebrated Son Dongwoon's graduation.
ON this day, Yoon Doojoon met with MoneyToday StarNews and said, "Maknae has truly become an adult now. I'm really happy for him, both for becoming an adult and graduating from high school without problems."
Yang Yoseob said, "Dongwoon tried to study diligently, but because of his life as a trainee and singer, he couldn't, and he was very regretful. After watching that side of him, as a hyung I'm really satisfied that I can see him graduate."
Yong Junhyung said, "When I was younger, I also couldn't fully live life as a student because of my activities as a singer, and I was really regretful. I felt bad watching Dongwoon because he seemed similar to me." He also revealed, "But now he has the responsibilities of graduation and a rookie award.
For the next album,
I want to prepare more enthusiastically and make it a great success."
"I never imagined that maknae had the strength to move his hyungs like this," said Jang Hyunseung. "I've also graduated, but if no people come, I've found that it's pretty sad. I'm relieved that we can all congratulate him together.
"There were so many people at the graduation that we couldn't properly congratulate him, but when we go to our apartment, we'll throw him a real party," he added.
On this day, the BEAST members had a scheduled activity until 6 in the morning, but in order to celebrate Son Dongwoon's graudation, they rubbed their tired eyes and displayed their loyalty.
Lee Kikwang could not be with them because of filming for MBC daily sitcom "High Kick Through the Roof."
Son Dongwoon has graduated from high school, but in order to focus on his activities as a singer for now, he will not enter college this year.
Meanwhile, BEAST is receiving a lot of love with their follow-up song 'Mystery.' At the Seoul Music Awards on the 3rd, they even received the happiness of the rookie award.